We have an Imp001 Electric Imp connecting to a VOC sensor.
board:

sensor manual:

I tried to read from the sensor using one of the following addresses. I either get -2, -6, -10 error.
Please help out.
Description of the wiring.
Ground -> Ground
3v3 -> 3v3
SCL - > SCL
SDA -> SDA
Here is the picture of the devices.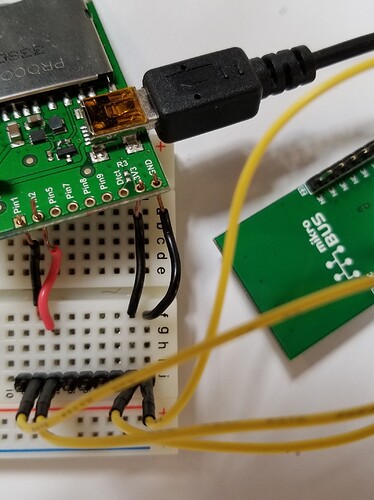 const BASE_I2C_ADDRESS = 0x5A;
local local_addr = BASE_I2C_ADDRESS << 1;
const SUB_I2C_ADDRESS = 0xB5;
local local_subaddr = SUB_I2C_ADDRESS << 1;
local i2c = hardware.i2c12;
i2c.configure(CLOCK_SPEED_100_KHZ);
local cmd=0x05;
server.log(i2c.read(local_subaddr,"", 2));
server.log(hardware.voltage());
local error=i2c.readerror();
if (error!=0) {
server.log("Error= "+error)
}